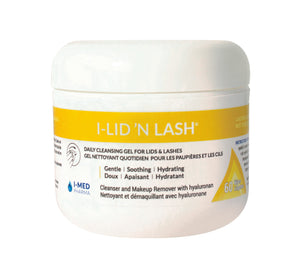 St. Clair Optometry
I-Lid 'N Lash
Regular price
$24.99
$0.00
Unit price
per
A Convenient, One-Step Lid and Lash Hygiene Product to Cleanse and Hydrate 
Cleans and removes ocular debris and makeup while enhancing the effectiveness of artificial tears. Used daily, I-LID 'N LASH® is effective in maintaining lid and lash health for patients with dry eyes or sensitive skin.
Effective water-based cleanser
Hydrating ingredients with added glycerin for superior moisturizing
Helps to soothe delicate skin around the eyes
Removes make-up
Contains hyaluronic acid
Does not sting, burn or irritate sensitive eyes
Paraben-free
Convenient, easy to use pre-soaked wipes (60 per jar / can be used for up to 6 months after opening)
How to use
Apply a moist, warm compress to eyelid to loosen encrusted debris and secretions.
2. Gently rub eyelid and eyelash roots with the pre-moistened I-LID 'N LASH® wipe in circular motion until debris is removed.
3. Do not rinse. Any remaining I-LID 'N LASH®will continue to cleanse and hydrate the skin.
4. Repeat as needed for the second eye using a clean wipe.
---